Visit the Reliquary
About Me
Name: Rowdy Theologian
Location: The Bawdy Cloister, United States
Archives
Credits
Wednesday, May 25, 2005
Roadside History
This morning on my way to
Del Rio, Texas
I stopped at a roadside historical marker. You never know what you'll find when you pull off to read one of these things, nine times out of ten it's something real obscure.
Sure enough, it was obscure, but at least I had actually
heard
of the
Rio Grande Colony
before (although I never knew much about it or exactly where it was.) So imagine my delight when I stumbled across this sign:
The sign was posted 8 miles north of the actual site, but that's pretty typical since so many historic spots are located on private property. Or perhaps it's a safety issue, I know I'd hate to run across a mob of angry Comanches on my morning commute.
|
Sunday, May 22, 2005
THIS WEEK...
...was far less exciting than last week. In fact, I don't remember much of it.
But there was one highlight. This afternoon I bought two bottles of Retsina. Yum.
|
Friday, May 13, 2005
Rowdy's Week in Review
Normally I try to keep my posts limited to one topic, but this has been a crazy week with much to write about. So I will do my best to write a
J-Go
like weekly wrap up blog entry. Sorry J-Go if I screw this up...but here goes.....
ITEM!

ROWDY MEETS DAVE ATTELL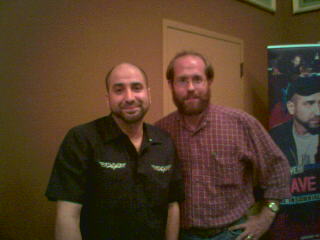 Dave Attell & Rowdy
Who is
Dave Attell
? He's the guy with the job I've always wanted...he travels the world, drinks, stays up all night and gets paid for it. He's like a cross between
Rick Steves
and
a drunk monkey
.
ITEM!

ROWDY RECEIVES SURPRISE GIFT
My Evil Little Brother arrived at the Cloister bearing gifts earlier this week (see previous post.) When I opened the door he had in one hand a bottle of Metaxa Grande Fine...
which was not much of a surprise (I was expecting a bottle of Olympian Reserve.) But in his other hand he had....
...a 19 1/2 inch tall plastic Godzilla! The very kind I had as a kid, with the spring loaded, hard plastic fist that shoots off his arm at mach speed. Well done ELB, well done.
ITEM!

BUGS IN MY GRILL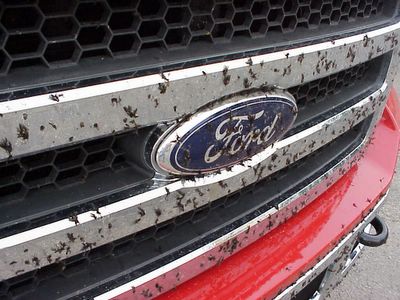 It's
lovebug season
in east Texas. I just washed a bunch of these guys off last weekend, but I smacked into a few more this week. There's probably a reason there aren't too many
Jains
in my line of work.
ITEM!

UNDISCOVERED TALENT
Keith Taylor
After a hard day's work there's nothing like settling down at the hotel bar and sipping down a few
Manhattans
. What's better is when there's live entertainment. Enter
Keith Taylor
. This guy can sing, and he does every Tuesday and Wednesday at the Holiday Inn's
Lone Star Lounge
in Victoria, Texas. You can sample his music at his website.
|
Sunday, May 08, 2005
Three's Company
My little brother is flying in today from the Great White North. He'll be here a week, and I'm so excited because he's bringing me presents. This is one of the benefits of being an older sibling...
HINT
#1
to kids reading this post, don't taunt your younger brothers and sisters, train them to give you gifts. It's far more rewarding in the long run.
HINT #2
, encourage your underlings to be successful, (I encouraged my brother to start taking flying lessons when he was 12 years old and lobbied my parents for support.) The more successful your younger siblings are in life, the better the presents you'll receive.
So what's he bringing?
See for yourself
....
It's only one of my favorite beverages, normally I drink 5 or 7 star (aged 5 or 7 years.) But according to
this site
...the stuff my brother found is aged 15 years and is a rare find...yummy.
|
Sunday, May 01, 2005
On When to Buy a Man a Beer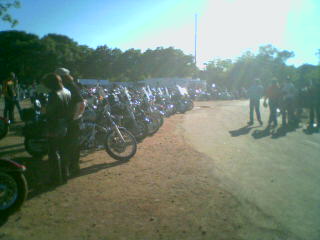 At the 9th Annual Hill Country Run
I'm no stranger in Luckenbach, Texas. When the barkeeper sees me walk in, he sets a Shiner on the counter. The guys that work the grounds know that Mrs. T likes a fire, all she needs to do is sit at the pit and before long they'll bring her a mess of mesquite logs to ignite. Luckenbach is our regular weekend retreat. Sometimes they're busy, sometimes they're not. Yesterday they were busy...hosting the Hill Country Run.
Motorcycle runs bring in all types. Realtors, lawyers, pharmacists...I spoke at length with an anesthesiologist.
There were a group of Christian bikers excited that
Michael W. Smith
was touring with
Selah
. And Mrs. T walked out of the powder room chuckling, "Those girls in there were complaining about their Con Law exam, the same complaints I heard for three years while you were in law school." I talked to guys from Georgia, Minnesota, and California...but there was one guy there last night that left a deep impression.
It was after dark, I was by the fire with a group of friends talking about how when we were eleven years old, me and my friend (whose Dad was a truck driver) would climb in the cab of his Dad's truck when it wasn't attached to a trailer and do doughnuts in the front yard. You could do that in rural Indiana...when the parents weren't looking. It was a light-hearted conversation. Then he staggered in.
He was a grizzly character, about 60 years old...he introduced himself and complimented us guys on the looks of our ladies (a standard Luckenbach introduction.) His speech was slurred and he swayed for balance as he spoke. Pretty soon the bulk of the crowd found reason to leave, he was a little too much for the girls to be comfortable around. They left me alone, leaning on a log next to this guy. Again he complimented me on Mrs. T, then he hung his head down and shut his eyes...organizing his thoughts. I waited. He lifted his head and looked up at the fire and asked me, "You go to Vietnam?" "No." He looked over and squinted, got a better look at me "Ah hell, you're too young."
"Yeah, that was my Dad's generation."
"That was
my
generation."
"You were there?"
He shook his head affirmatively, "I'm riddled with bullet holes, man."
I let him speak...there'd be long silences. He'd hang his head and close his eyes, he'd look up again and continue. Reflecting on the friends he'd lost. And then he said, "I'm a coward you know." "Why's that?" "If someone scared me, I'd kill them."
I took a swig of my beer and kept my gaze silently on the fire.
Then he asked, "You ever hear of the Hell's Angels?"
"Yeah."
"You're talking to one right now. You know what happened at
Altamont
?"
"Yeah."
"I was working security that night."
He went on to discuss why things there went down the way they did, why taking that guy down was necessary. So I said, "I take it all those bullet holes aren't from Vietnam?" He looked over at me, "
Most
of them are."
That's when I asked if I could get him a beer. He accepted graciously. We talked on for a while longer until I saw Mrs. T's group of friends split up...I then told the guy I had to go so she wouldn't be alone. We shook hands and I was gone.
Like I said before, 99.9% of the folks you meet at a bike rally are well adjusted. I just pray that giving that outlaw my ear for a while last night helped temper the demons he's fighting...and maybe allow him to get some rest.
|